Cares
Plan members
Plan sponsors
GreenShield welcomes Sabrina Ladha as Vice President, GreenShield Cares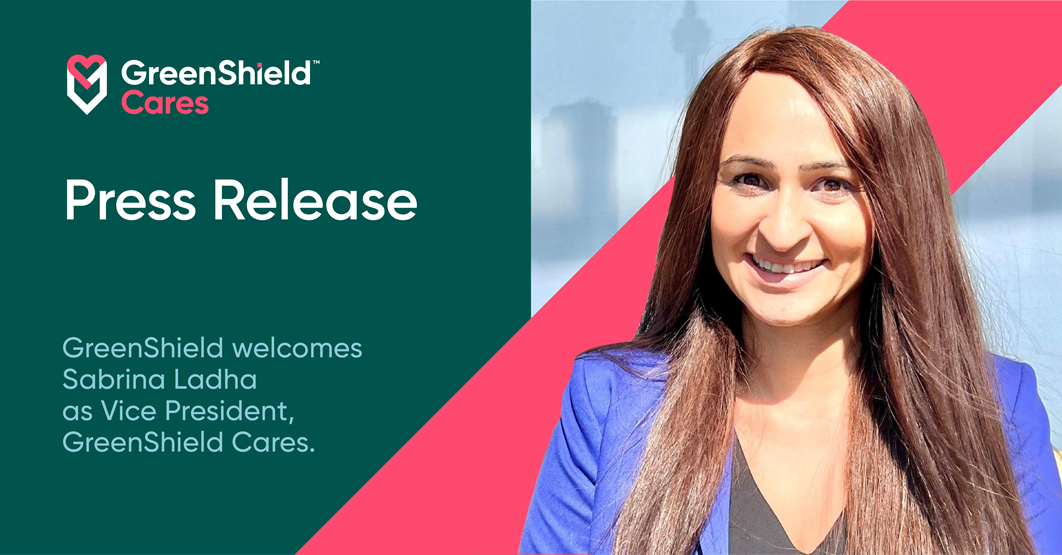 TORONTO, ONTARIO - October 3, 2023 – GreenShield is pleased to announce the appointment of Sabrina Ladha as Vice President, Social Impact, GreenShield Cares. This pivotal role is another strategic hire as part of GreenShield's commitment to add rigor and bench strength to the strong social mission at its core as a not-for-profit health and benefits company. Through its social impact brand GreenShield Cares, the company reinvests its earnings and self-funds the deployment of its wholly-owned health services to support underserved and marginalized communities.
In her new role, Ladha's mandate includes the evolution of GreenShield's approach to creating significant, measurable social impact by improving health and well-being in the communities where Canadians live and work. As part of GreenShield's transformational journey, Ladha will lead GreenShield Cares, with a focus on "Creating Shared Value" (CSV). At its core, CSV means looking at an organization's social impact and business strategies as being interconnected. The business exists to advance its social mission; and the social mission is self-sustainable in that it is advanced in a way that also supports business growth. The result is an or
ganization that can grow to become an even stronger force for good.
a"We are delighted to welcome an authentic, resilient and purpose-driven leader to our team," said Zahid Salman, President & CEO, GreenShield. "Her entrepreneurial drive and experience integrating social impact and business will be instrumental in advancing GreenShield Cares' CSV strategy and our focus on developing sustainable, impact-driven programs."
Ladha is an entrepreneur and investor with experience building business and social investments in East Africa, South Asia and North America. She has supported the leadership of commercial organizations and social enterprises through growth and impact strategy development. In her most recent role at LEAP Pecaut Centre for Social Impact, a venture philanthropy fund and accelerator, Ladha worked alongside the Board to design, raise and deploy funds to innovative companies focused on addressing social issues across Canada. She scaled portfolio companies both financially and through social impact, combining impact measurement and revenue generation.
Ladha holds a Master of Public Administration from Harvard University, John F. Kennedy School of Government, a Master of Business Administration from University of Texas at Arlington, and a Bachelor of Science from University of Texas at Arlington. She is currently in pursuit of a Doctor of Education, Leadership from Western University.
"I am inspired by the opportunity to take on a role that directly impacts the company's goals to invest $75M to improve the lives of at least one million Canadians by 2025," said Ladha." I look forward to bringing my diverse background and sheer passion to furthering GreenShield's commitment to champion better health for all."
Through GreenShield Cares, the company reinvests its earnings and self-funds the deployment of its wholly owned health services to support underserved and marginalized communities. This is done through signature GreenShield Cares programs such as:
Women's Mental Health, which provides free, direct access to counselling and internet-based cognitive behavioural therapy (iCBT) resources to vulnerable, racialized, and marginalized women. In just over a year, the company helped nearly 60,000 women access free mental health services.
Oral Health, which funds academic research on the importance of oral health and front-line oral health clinics to increase access to dental services to those in need. To date the program has committed over $20 million, operates seven clinics, and has helped over 35,000 underserved Canadians access free dental care.
Essential Medicines, a first-of-its-kind program to dispense and deliver free essential medications to low-income Canadians without private or public drug coverage. More than 97 per cent of Canadians have some form of coverage for essential medicines. This program is a blueprint solution designed to fill the gap for the one million without coverage.
Learn more about GreenShield Cares.
For media inquiries:
Sheril Bose | sheril@headsandtales.ca | (613)879-7034
About GreenShield
GreenShield is an integrated health and benefits organization and the first organization in Canada to operate as a payer-provider— offering insurance, administering benefits, and paying claims as a 'payer' while offering health services such as mental health, pharmacy, and medical services as a 'provider.' Integrating both sides of the payer-provider equation enables GreenShield to simplify access to care, remove administrative barriers, and improve health outcomes for its customers.
GreenShield is uniquely structured as a not-for-profit social enterprise that reinvests its earnings and redeploys its services to support underserved Canadian communities via its social impact brand, GreenShield Cares. The company's overarching goal is to generate $75 million of social impact investments to improve the lives of at least 1 million Canadians by 2025, with a focus on mental health, oral health, and essential medicines. As the industry's noble challenger GreenShield continues to innovate, evolving its offerings and services to deepen its purpose of championing better health for all.
GreenShield.ca
GreenShield means, collectively, Green Shield Canada (GSC), Green Shield Association, and Green Shield Holdings Inc., which is the primary company that houses health services and benefits administration businesses, including Inkblot Therapy, Tranquility, BCH Consultants, NKS Health Canada, The Health Depot Pharmacy, Benecaid, and Computer Workware Inc. Green Shield Holdings Inc. is a wholly owned subsidiary of the not-for-profit Green Shield Association.