Cares
Enterprise
Plan members
Plan sponsors
Championing Better Health For All: GreenShield's 2022 Social Impact Report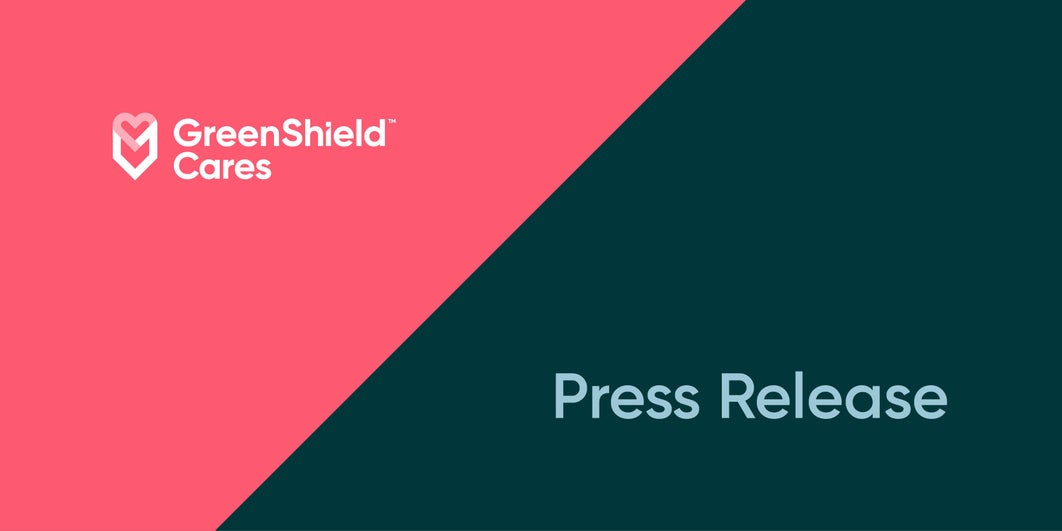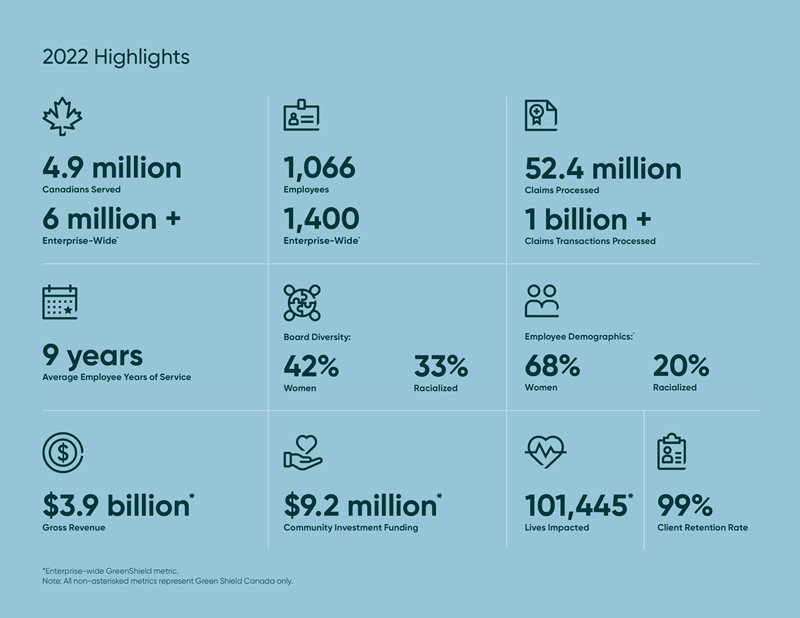 TORONTO, ONTARIO - July 6, 2023 – GreenShield released its GreenShield Cares' 2022 Social Impact Report today. The report spotlights the latest developments of GreenShield's business and evolving social impact strategy. As a not-for-profit social enterprise, GreenShield reinvests its earnings and redeploys its services to support underserved communities, with a goal of generating $75 million of social impact investments to improve the lives of at least one million Canadians by 2025.
GreenShield is driven by its purpose and mission to tackle complex issues and create meaningful positive change and social impact in communities across Canada, through GreenShield Cares. Its national not-for-profit structure is unique in the Canadian health and benefits industry, with its business growth strategy existing to advance that social mission, and its social mission in turn supporting business growth. The result is that GreenShield generates more financial capacity becoming an even stronger force for good, while redeploying its services to those in need.
"GreenShield exists for the purpose of championing better health for all. Our social impact activities reflect how we're improving health care access for all Canadians," says Zahid Salman, President & CEO. "As one of Canada's largest social enterprises and only payer-provider, GreenShield is delivering a new model of care from coast to coast to coast. With the strategic, tech-supported integration of our benefits and health care services, we enable a sustainable future for health and well-being across the communities we serve."
Key highlights from GreenShield Cares' 2022 Social Impact Report
$9.2 million invested in Social Impact initiatives and partnerships that enable individuals and communities to live their healthiest lives, by giving our expertise, time, and funds.
$3.5 million invested in our signature women's mental health initiative, to provide direct access to counselling and internet-based cognitive behavioural therapy (iCBT) resources to vulnerable, racialized, and marginalized women.
$10 million more in oral health commitments, bringing our total to $20 million in oral health commitments, including new investments in our signature oral health program, where we partner with leading academic institutions and front-line community health providers to support access to no-cost dental care for Canadians in need.
Over 100,000 lives impacted by redeploying our services to create meaningful positive change in the communities we serve. Lives impacted means positive changes in individual oral and mental health outcomes.
Laid the groundwork for GreenShield+, which launched in 2023. This is a state-of-the-art digital platform that supports a seamless health and benefits experience – delivering improved access, convenience, integration, and health outcomes.
$300,000 in scholarships and educational opportunities for education and empowerment of First Nations, Inuit, and Métis youth, in partnership with Indspire, a national Indigenous-led charity.
"In 2022 we saw GreenShield's growth reflected in many new and exciting ways," says Mila Lucio Executive Vice President, Head of Human Resources & Social Impact. "We evolved our business strategy to become Canada's first payer-provider and achieved our highest-ever social impact investment in our communities through our GreenShield Cares commitments."
Topics covered in this year's report are organized within three key pillars: Creating Shared Value, Community Investment, and Good Corporate Citizenship. In addition, the report includes information on governance, diversity, equity & inclusion, client services, as well as details on investments in local communities.
All metrics featured in this report are current through December 31, 2022 and represent GreenShield Canada only unless otherwise noted. In addition, all financial values are expressed in Canadian dollars, unless otherwise noted.
-30-
For media inquiries:
Stephanie Swinamer
Stephanie.swinamer@greenshield.ca
About GreenShield

GreenShield is an integrated health and benefits organization and the first organization in Canada to operate as a payer-provider - offering insurance, administering benefits, and paying claims as a 'payer', while offering health services such as mental health, pharmacy, and medical services as a 'provider'. Integrating both sides of the payer-provider equation enables GreenShield to simplify access to care, remove administrative barriers, and improve health outcomes for its customers.
GreenShield is uniquely structured as a not-for-profit social enterprise that reinvests its earnings and redeploys its services to support underserved Canadian communities via its social impact brand, GreenShield Cares. The company's overarching goal is to generate and reinvest $75 million of social impact investments to improve the lives of at least 1 million Canadians by 2025. As the industry's noble challenger GreenShield continues to innovate, evolving its offerings and services to deepen its purpose of championing better health for all.
GreenShield.ca
GreenShield means, collectively, Green Shield Canada (GSC), Green Shield Association, and Green Shield Holdings Inc., which is the primary company that houses health services and benefits administration businesses, including Inkblot Therapy, Tranquility, BCH Consultants, NKS Health Canada, The Health Depot Pharmacy, Benecaid, and Computer Workware Inc. Green Shield Holdings Inc. is a wholly owned subsidiary of the not-for-profit Green Shield Association.