A new year brings new branding at MindBeacon
Green Shield Canada (GSC) has offered BEACON® digital cognitive behavioural therapy under our benefit plans since 2018, and it has been well-received by both plan sponsors and plan members, especially during the ongoing COVID-19 pandemic. Now, as MindBeacon introduces new branding, it's goodbye BEACON Digital Therapy and hello MindBeacon Therapist Guided Program.
Going forward, you will no longer see the brand BEACON or the platform name BEACON, but be assured that the service is not changing. In fact, users of the Therapist Guided. Program will see improvements to the general navigation, onboarding process, and the chat messaging functionality. Over the coming year, MindBeacon will continue to invest in the program with elements like video, more interactive activities, and new programs.
GSC's plan member landing page has been updated to reflect the new brand and includes a new FAQ section and easier navigation. The platform experience itself has also changed. A new lobby experience allows registered users to access and easily navigate a variety of mental health supports all in one place. Users will see tiles for the Therapist Guided Program and Stronger Minds in this new lobby.
MindBeacon's crisis support partnership with Kids Help Phone
MindBeacon has partnered with Kids Help Phone for free, real-time crisis support through text messaging for Canadians of all ages. As of January 2021, a "Need Immediate Crisis Help?" function is included on both the MindBeacon website and within the MindBeacon platform, providing instant access to crisis text support from Kids Help Phone. This service, which adds to the overall MindBeacon offering, comes at a time when hospitals across the country are at or over capacity due to rising cases of COVID-19. With more people being required to self-isolate at home, crisis intervention can be even harder to access.
Servus Credit Union: improving access to mental health support – a testimonial
Blair Bilyk, manager of compensation and benefits at Servus Credit Union (Servus), has been an ongoing champion of MindBeacon since 2018, after experiencing the benefits of the Therapist Guided Program himself. Servus, a GSC plan sponsor, initially offered MindBeacon as an eligible reimbursable expense under their benefits plan. Throughout 2020, however, Servus saw a 36 per cent increase in psychological services spend as plan members were accessing mental health therapies through various providers.
That's when Blair realized that covering MindBeacon in full through the per-plan-member per-month payment model was a logical step to improve access to validated, consistent mental health support for all plan members and their eligible dependents. Taking this step addressed common barriers associated with accessing mental health therapy, like cost, concerns around time commitment, and geographical access in rural areas.
Here's what Blair told us: "I believe that by making the same mental health support accessible to all – wherever, whenever – our employees will be happier and more resilient long term and as we get through challenging times."
MindBeacon therapy using a per-plan-member per-month model could be the right choice for your plan too. It completely eliminates the out-of-pocket expense for plan members leading to increased uptake. Contact your account team for a quote.
2021 provincial dental fee guide adjustments
Each year, GSC updates our claims adjudication system with the current dental fee guides issued by dental associations in each province and territory. The cost impact to plans is dependent on the utilization for each type of procedure code. For example, a two per cent increase to frequently used basic and preventive services will have a higher impact than a two per cent increase to unused or infrequently performed dental procedures. To help determine how these changes may affect your dental plan, the following table provides a summary of the weighted average adjustments to dental fees for 2021 by province and territory.
Dental fee guides are suggested fees that help provide transparency around dental costs and can help educate consumers. While most dental providers follow the suggested fees published in their province/territory, they can bill their own fees according to their individual practice. For example, fees may be reduced or increased based on the amount of time required and/or the level of complexity involved for an individual procedure.
Note that some provinces have explicitly stated that additional fees for personal protective equipment (PPE) are permitted; however, PPE fees can be charged in other provinces and combined with the procedure code fee itself. With the COVID-19 pandemic likely to continue for the majority of the year, it will be interesting to see the analysis of increased costs due to the impact of the changes dentists have had to make to their office environments, appointment scheduling, and additional PPE.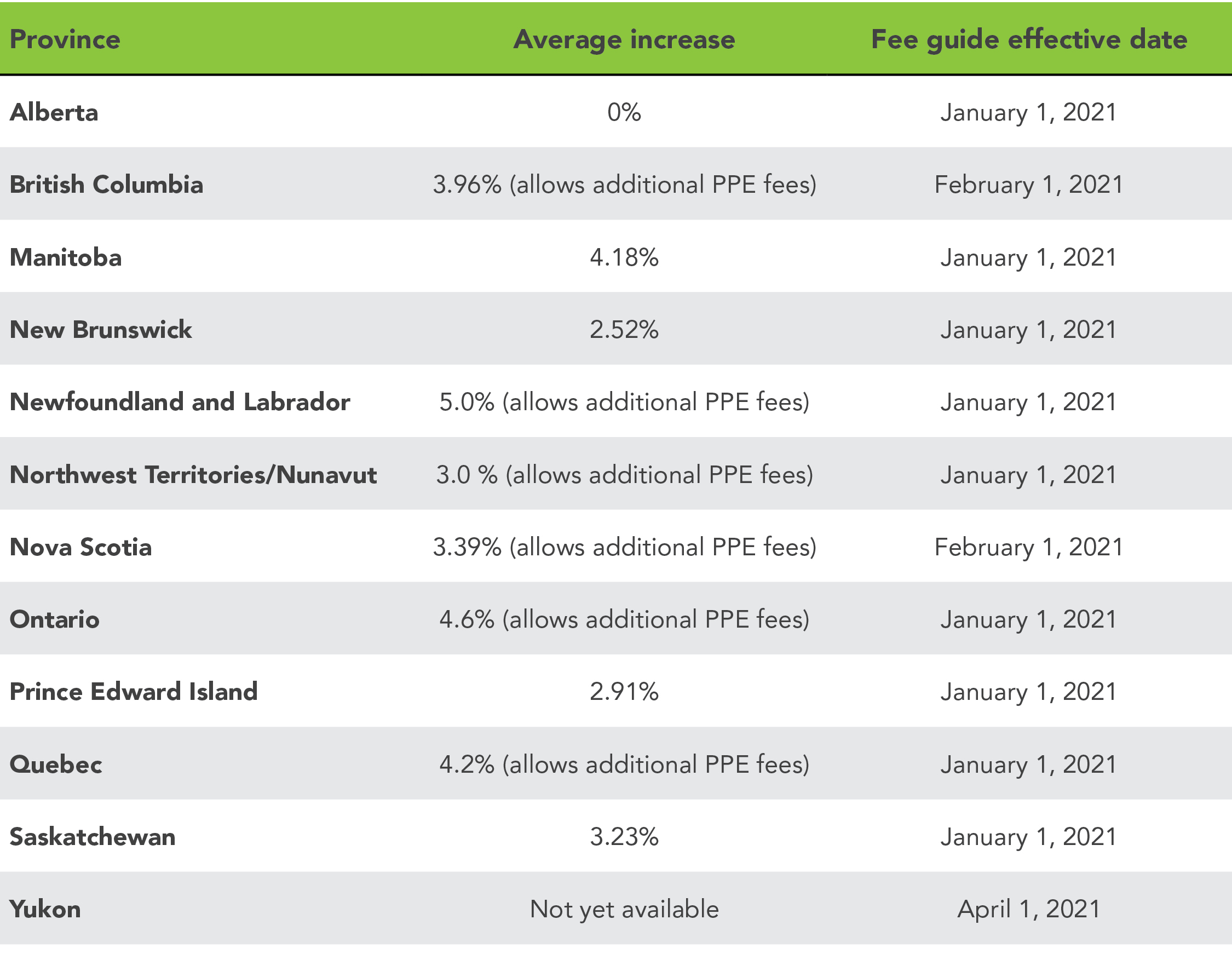 The fee guide information above was provided by the applicable provincial/territorial dental association.
Updated GSC privacy policy
As part of GSC's commitment to privacy, we regularly review our privacy practices to ensure they remain appropriate, effective, and up to date with the most current regulatory requirements.
During a recent review, we made changes to our external-facing privacy policy that are intended to provide our plan sponsors and plan members with better insights around the way GSC handles the personal information entrusted to us.
The updated privacy policy is available on GSC's website. We encourage you to review it here.
If you have any questions, please feel free to contact us at privacy.office@greenshield.ca.

Coming soon: an enhanced platform for online administration
When it comes to online administration, we pride ourselves on introducing new features that take the strain off plan administrators and simplify day-to-day tasks. With this in mind, we are excited to announce that AdminConnectTM, a fresh interface to our existing Online Administration platform, will be launching later this year.
AdminConnect will provide users with a more intuitive, streamlined online experience, empowering them to handle more tasks independently and in real time. Stay tuned for more details in the months ahead.
And this is just the start. Post-launch, we will continue to modernize AdminConnect administrative functions to put even more helpful options at users' fingertips.
News from PocketPills
Last year, GSC entered into a partnership with PocketPills, Canada's leading digital pharmacy, and offered three flexible packages – as described in the September 2020 issue of The advantage. At that time PocketPills introduced a limited-time offer: plan sponsors who implemented the Voluntary plan any time in 2020 benefited from the lowest pharmacy markup available in the Incentivized and Mandatory Excusive plans until their 2021 renewal. That promotion ended on December 31, 2020; however, PocketPills has introduced a new pharmacy markup under the Voluntary plan that is significantly lower than that offered to general consumers (i.e., non-GSC plan members). Adding in the low $7 dispensing fee and free delivery demonstrates the value provided in implementing the Voluntary plan.
To refresh your memory, here's a summary of the three packages available: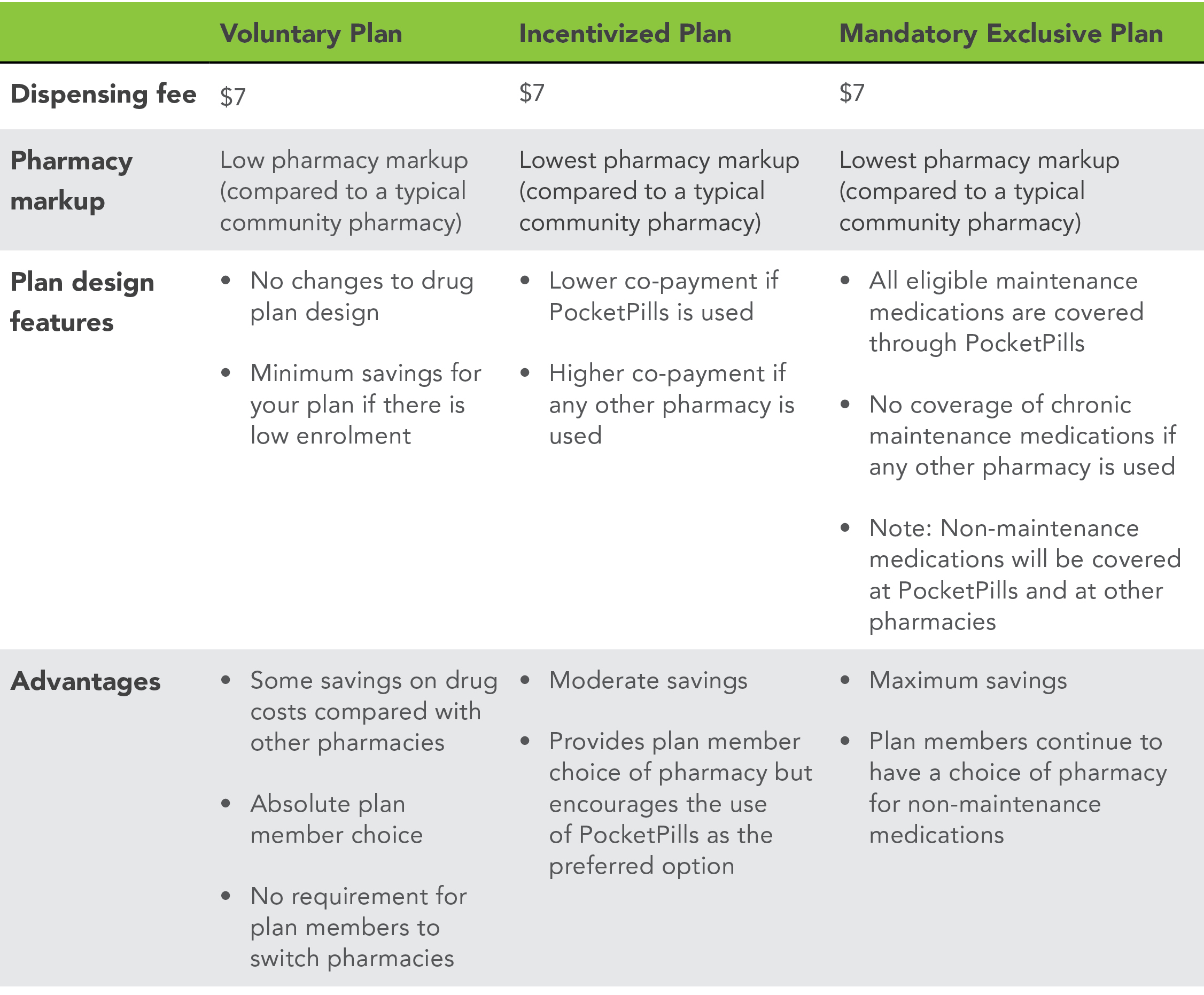 Note that while PocketPills wasn't initially available in Quebec, it's expected to become available in the near future.
Contact your account team to add PocketPills to your drug plan or for more information.
Changes to pharmacy services in Quebec due to Bill 31
As described in the September 2020 issue of The advantage, Quebec's Bill 31 was passed in March 2020 and expanded the scope of practice for pharmacists. As of January 25, 2021, the newest provision of Bill 31 was implemented by the Régie de l'assurance maladie du Québec (RAMQ) which enables payment for some pharmacist-delivered services without applying the usual co-payment or deductible, so that the services are covered at 100 per cent. This resulted in carriers being required to update their adjudication systems to reflect this change. We can confirm that, as of the effective date, GSC's adjudication system was updated to align with RAMQ's reimbursement model for the eligible services thus providing fair and equitable access for all Quebec plan members via RAMQ and private coverage.

GSC launches two forward-thinking products
As highlighted in the December 2020 issue of The advantage, on March 1, 2021, pharmacogenetic testing and virtual orthodontics benefits were added for plan sponsors (that didn't opt out). As a reminder…
Pharmacogenetic Testing and Counselling
Pharmacogenetic testing helps physicians and pharmacists choose medications best suited to an individual based on the results of a genetic test that determines whether a person has certain genetic mutations that are known to influence how they respond to a drug. GSC's pharmacogenetic testing benefit (TreatGxplus), offered in partnership with GenXys, consists of a test, a full report of the results, and access to accompanying software. Read more here. As of March 1, we will also begin reimbursing pharmacies $35 for providing pharmacogenetic counselling to each eligible plan member they help to optimize treatment. This fee is included in the cost of TreatGxplus.
To help you tell your plan members about the Pharmacogenetic Testing and Counselling program, we've created a poster and a "Did you know…" information sheet saved together in PDF format (print-only). Click here to download.
Virtual orthodontic care from SmileDirectClub
Plan members who qualify for GSC's virtual orthodontic option, offered through SmileDirectClub, can get treatment from their home without the need to see a dentist or orthodontist in person. This means your plan's orthodontic coverage can now be used for in-person treatment or SmileDirectClub virtual treatment.
SmileDirectClub treatment greatly reduces financial and geographical barriers and is available at a significantly lower cost than in-person treatment. Note that not all orthodontic cases are eligible for the virtual option, and licensed dentists will create the treatment plans and follow the patient's progress along the way. Plan members only need to pay out-of-pocket for the portion not covered under their plan as SmileDirectClub will submit their claims electronically to GSC (in real time). And all GSC plan members are eligible for GSC's preferred pricing from SmileDirectClub even if they don't have orthodontic coverage under their plan. Read more here.