Taking Change4Life® to the next level…
When Green Shield Canada (GSC) launched the Change4Life health portal back in 2015, we shifted the traditional "wellness" conversation with a focus on "nudging" plan members towards a healthier lifestyle by engaging, educating, and rewarding them on the road to positive behaviour change.
Over the past six years, Change4Life has become a key value-add for our plan sponsors and an important health hub for our plan members. Equally, a lot has changed in the world around us over that time and, as we look to the future of this offering, we have strengthened our vision for a next-level Change4Life via insights from plan sponsors and plan members alike.
With this mind, it's time for a Change4Life relaunch – one that will include new features and enhancements, and at the same time will strengthen plan member engagement. We're looking forward to this relaunch in October. You'll hear more about the new version of Change4Life before then, but in the meantime we're excited to share a few highlights:
Updated multi-media educational modules, recipes, and monthly articles
Removal of older materials and unused resources
A new monthly polling feature to allow plan members to provide feedback and insights to questions asked on topics such as mental health and financial health
Enhanced analytics and reporting
New video-based health series, called "Ask the Expert"
Integration with additional wearables (Garmin, Google Wear OS – sleep and steps)
A new look and logo and an overall refresh of the dashboard/home page and all other main sections of the platform
Following the relaunch, updates to the health portal will be regularly scheduled, and we'll also launch a Change4Life app with Apple Watch integration next year.

More strategic health behaviour-change analytics and reporting insights…
Change4Life's enhanced analytics and reporting feature includes more than 100 new Tableau charts allowing GSC to access:
Aggregated health risk assessment participation and aggregated risk factor scores – across our book of business and per plan sponsor
Aggregated individual plan member behaviour change over time
A range of filtering capabilities, e.g., by date, gender, age, ethnicity
Top learning modules, tools, and content usage trends
Wearables usage and statistics
Points earning summaries
Rewards preferences, prize bids by age/gender, savers vs. spenders
This value-added tool will help to identify key risk factors, areas of opportunity where plan members are the most motivated to make changes, and individual behaviour-change results over time. It will include all Change4Life plan member data since its launch in 2015.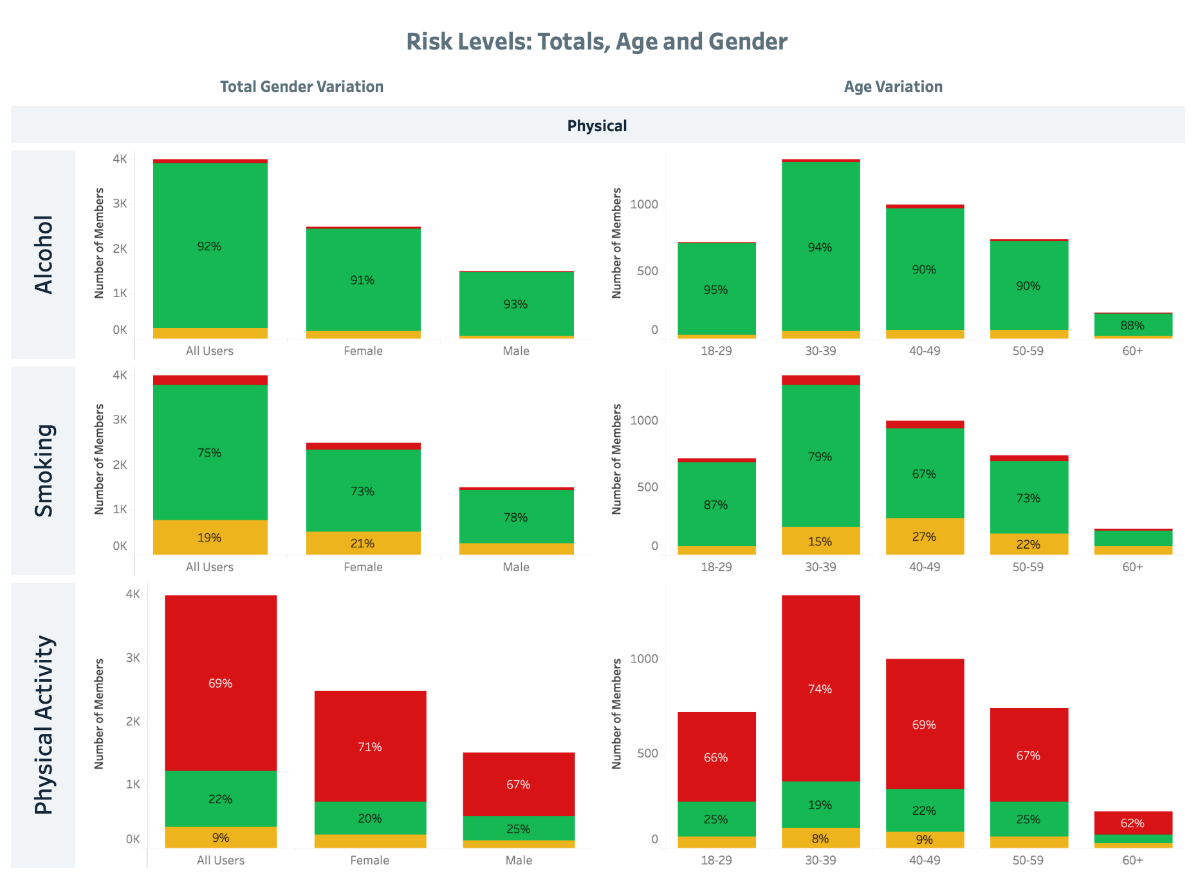 Want more information?
If you have any questions before we send additional details around the new Change4Life experience coming later this year, please contact your GSC account team.
GSC selected to deliver publicly funded virtual health services to Canadians via Inkblot's platform
In the May 2021 issue of The advantage, we introduced Inkblot Technologies as our new employee assistance plan partner. So last month, we were excited to learn that GSC was selected by Canada Health Infoway as a pre-qualified vendor on its Vendor of Record listing, which opens up opportunities to supply the Inkblot virtual platform to provincial and territorial health systems across the country. Please read the press release for additional information.
We're becoming more eco-friendly
GSC has a strong commitment to "going green," and we would like to thank our plan sponsors for helping us reduce our environmental footprint. As part of our ongoing efforts, benefit booklets will now be provided electronically only. You are welcome to print the booklets on your own. However, should you wish for GSC to print and ship hard copy booklets to you, there will be a charge. If you have any questions, please direct them to your account team.

GSC everywhere is now LIVE
GSC everywhere went live last week, and we couldn't be more proud to share the result of over a year's worth of hard work by our teams. Built from the bottom up, GSC everywhere is so much more than a fresh new look. It is a modern, intuitive, and convenient service experience – backed by smooth and powerful performance – that can be accessed online at gsceverywhere.ca, or using the GSC everywhere app on mobile devices. Plan members will enjoy easy access to all of our most popular features (plus some new ones) including:
Streamlined online claiming
Coverage checks for specific benefits with more thorough, real-time results
Easier search and filter for claims history
Modern search function to find conveniently located health providers that are in good standing with GSC
Easier access to GSC's collection of digital health tools and products
Easier access to update personal and payment information
If you haven't already, we hope you'll take a minute to check it out for yourself. We think it'll knock your socks off.
Enhanced COVID-19 quarantine travel coverage
In April 2021, we announced that all standard GSC travel plans had been updated to include coverage for emergency medical expenses related to COVID-19 through December 31, 2021, up to the existing maximums and limitations within each plan.
And in late July, a GSC Update was issued that outlined benefits within our standard travel plans that are accessible (from August 1, 2021, to December 31, 2021) during a quarantine period for a covered Fully Vaccinated Traveller* (see footnote for a full definition), who tests positive for COVID-19 during their trip and is delayed in returning home. These benefits include:
Meal and accommodation expenses of up to $150/day (to a maximum of $1,500) where quarantine is required outside of Canada (or within Canada and outside of a plan member's province of residence) when they cannot board their pre-arranged transportation home;
Medical expenses incurred during the quarantine period including extension of prescription medications and follow-up COVID-19 tests;
Additional expenses incurred for one-way economy fare to return home for the covered quarantined person(s) once they are cleared for travel; and
Emergency medical expenses and the above quarantine expenses will continue to be eligible for up to 14 days in the event that the quarantine period causes a plan member to be away from their province of residence beyond the maximum number of days per trip covered by their plan.
Please review the detailed GSC Update and contact your GSC account team if you have any questions. We understand that plan members may be looking for answers too, and we encourage you to direct them to the "Coronavirus (COVID-19)" page in the Support Centre where they can view the FAQ. This is where we will continue to post our latest travel updates.
*For the purposes of this quarantine benefit, a Fully Vaccinated Traveller is someone who is eligible for and has completed the recommended vaccine treatment considered by the Canadian government (typically two doses) at least two weeks prior to departure. Plan members can visit travel.gc.ca to determine whether they are considered fully vaccinated by the Government of Canada. Travellers who are not able to receive a vaccine in Canada based on age or medical condition will be considered a Fully Vaccinated Traveller for the purpose of this quarantine coverage.
Check out GSC's summer 2021 issue of Follow the Script®
Don't miss our summer 2021 issue of Follow the Script which features an update on biologics and biosimilars and how GSC's biosimilar strategy offers plan sponsors significant savings. In the "Behind the Counter" interview, Ned Pojskic, vice president, pharmacy benefits management, tells us about a new drug for Alzheimer's disease that's sparked controversy in the U.S.
And be sure to listen to episode 31 of our podcast "And now for something completely indifferent." In this new episode, "Back to biosimilars… is Canada finally stepping up?", GSC's Ned Pojskic and Leila Mandlsohn discuss Canada's progress with biosimilar adoption.
Inkblot is GSC's new EAP provider
As we shared in the May 2021 issue of The advantage, GSC is now offering an innovative employee assistance program (EAP) in partnership with Inkblot Technologies (Inkblot). Inkblot's EAP pairs high-quality on-demand counselling with a wide range of advisory services across the full spectrum of care and is provided via technology that delivers the most tailored experience in the marketplace, offering valuable differentiators compared to traditional EAPs. If you have any questions about Inkblot or the EAP offering, or you wish to request a quote, please contact your GSC account team.