It's a sight for sore eyes: the smooth flattening of a curve. Following weeks of strict social-distancing measures and shutdowns, we are now ready to begin the long balancing act of re-opening an economy that is still under the siege of a pandemic.
But, with words like "droplets" and "viral-load" now deeply imprinted in the public consciousness, the question of re-opening the economy is more complicated than just the logistics of social distancing. In particular, for service-oriented industries such as healthcare, the slow march toward a new "normal" comes with a heavy question: if you open, will they come?
As a start toward an answer to that question, we decided to go out and survey 500 of our plan members from across Canada. What they shared with us painted an insightful picture of prioritized needs, expectations for safety, and a new way forward.
More than a feeling…
Importantly, the survey began with a pulse-check on how people are feeling right now. We were pleased to see that over half of the group reported feeling hopeful, with many more saying they feel safe, grateful, and connected. They also appear to be a pretty responsible group, with most (87%) reporting that they are strictly following social distancing guidelines.
As we expected, we also heard that nearly half are feeling anxious, with many saying they feel tired, sad, and even fearful.
Those feelings were apparent in their answers to the questions that followed, which focused on how the group felt about returning to their regular healthcare providers. Would they feel comfortable visiting providers in-person before a vaccine for COVID-19 becomes widely available?
The answers varied based on the type of health services being provided.
The majority of respondents indicated they will likely visit their dentist, while a quarter of the group expressed that they would not.
For paramedical services such as physiotherapy, massage and chiropractic services, only a minority of respondents indicated an intention to attend in-person appointments, even if needed.
Expectations have changed as well. The majority of the group (61%) expressed an expectation that healthcare professionals will greet them in full Personal Protective Equipment (PPE) for any in-person interaction, and that most (79%) will require a clear understanding of the health and safety procedures in any healthcare setting before entering.
Changing with the (unprecedented) times…
When we think of the changes this crisis has forced upon our healthcare system, we often think of hospitals with their COVID units and crowded ICU wards. But, with a public that has adjusted to a socially-distanced world in order to feel safe, it's hard to imagine any part of the very hands-on, very in-person healthcare industry that will escape the influence of this pandemic.
To help weather this crisis, both consumers and healthcare providers have turned to virtual services via text and/or video. Many have used, or are considering using virtual services for the first time. We wanted to know how consumers feel about the role this technology can play in a post-pandemic healthcare system.
Unsurprisingly, the data showed a much-increased interest and confidence in virtual healthcare than before the current health crisis, with over half (56%) indicating that the COVID-19 pandemic has made them more open to using online healthcare.
We saw this shift in consumer attitudes reflected in the data of our virtual health partners as well. The online pharmacy PocketPills reported to us that they are filling an average of three times as many prescriptions since the country started to shut down in mid-March. And the digital therapy platform MindBeacon has told us they have seen downloads of their application double (an increase of 105%), with the number of treatments started increasing by over half (55%).
With both the supply and demand of virtual healthcare offerings increasing, this significant shift in healthcare service delivery will need to be met with a shift in traditional health benefits plans. Not only did the majority of the survey respondents believe that their plans should include virtual healthcare options moving forward, but a concurrent survey of health benefit plan sponsors conducted by GSC showed decision-makers for those private benefit plans agree.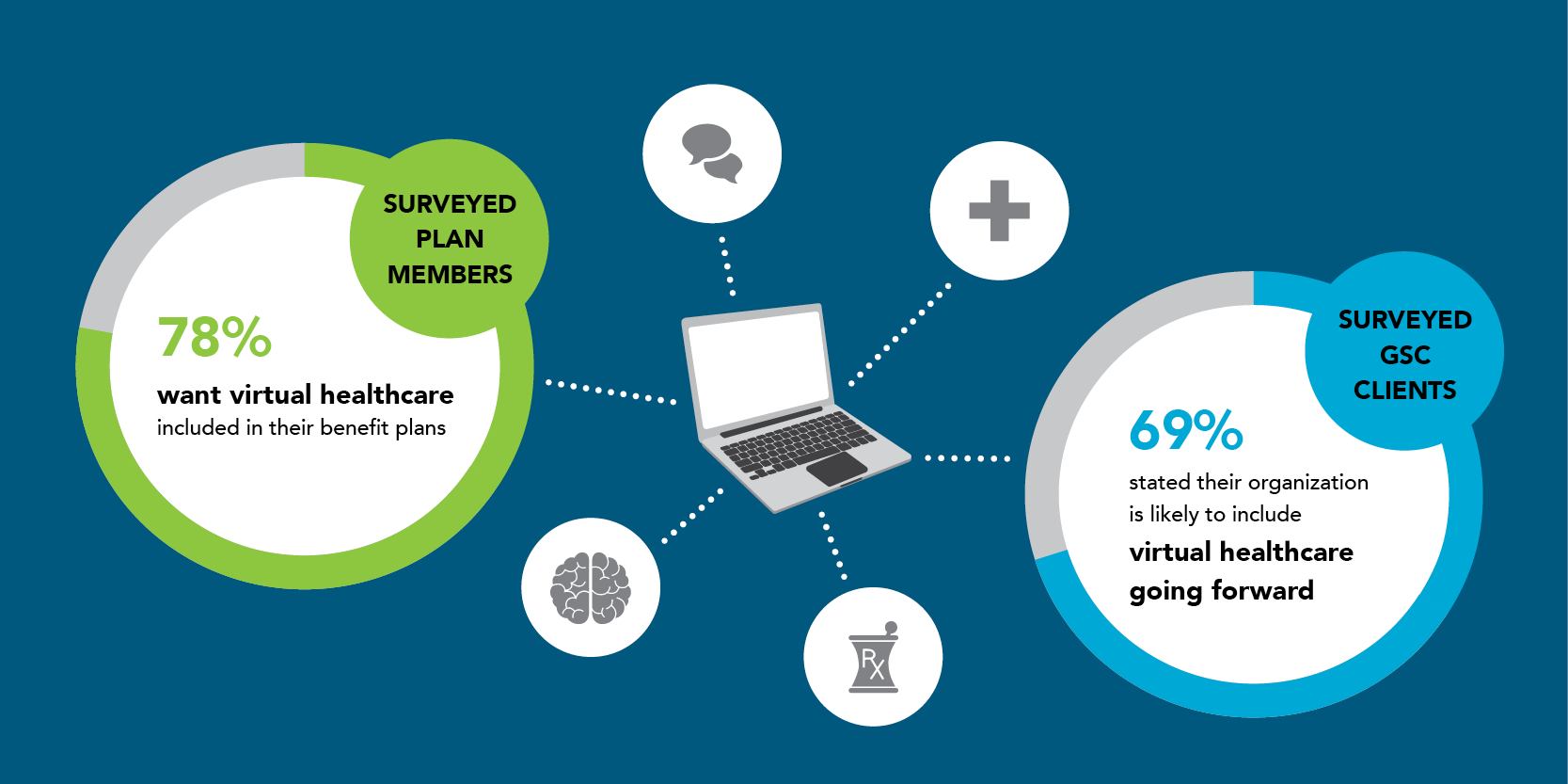 So, while much is still unclear about what a re-opened economy will look like, the data from this survey highlights the need for the healthcare industry to confront and act on the hesitancy of many former patients to re-engage in previously standard treatments.
In addition, providers of health benefits plans – both private payors and Government – will need to consider their next moves in increasing access to virtual services whose conveniences and safety Canadians are likely to seek out in both a pre and post-vaccine world.