GIVING BACK TO OUR COMMUNITIES.
IT'S THE RIGHT THING TO DO.
The GSC Community Giving Program (CGP) is an annual granting initiative that provide financial and organizational development support to Canadian registered charitable, not-profit, social enterprise organizations that deliver frontline health care to uninsured and underinsured people across Canada.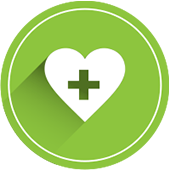 CGP Grant recipients aligned with GSC's core mission: to create innovative solutions that increase access to health care.
We support organizations that focus on oral health care, vision care, prescription drugs, disease management, mental health counselling, and have an aspect of social service navigation to help address the whole person, including housing support, healthy food programs, education, job training.
WHAT YOU NEED TO KNOW
Click here for the list of 2017 Community Giving Program grantees.
Please Note: We are no longer accepting applications for the Community Giving Program. We remain committed to increasing access to health services for all Canadians and contributing to community organizations across Canada. We will be announcing our exciting new granting approach at our Annual General Meeting in May 2018.
FRONTLINE CARE IN ACTION…SPOTLIGHT ON:
ORAL HEALTH CARE
Want to get to know a bit more about who has received funding through the GSC Community Giving Program? We'll take you across Canada and put a spotlight on some of the great projects and organizations we're proud to support in the field of oral health care.
Halton Peel Dental Association recruited a team of 18 volunteer dentists to offer over 100 clinical hours (over four days) of free dental services in Oakville and Mississauga, Ontario. The program reaches out to local charities to promote the program to those in the community most in need of oral health treatment, and offered navigation services during the drop-in dental session. This dedicated team also visited 4 schools in the community and oral hygiene instruction was given to over 800 students.
In partnership with UBC Dentistry EFry runs a free weekly dental drop-in clinic in New Westminster BC. The Drop-In Centre is a low-barrier program for women and their children. Clients are able to receive oral assessments, cleanings, oral health education and referrals for more extensive dental services. It plays an important role in helping clients to meet basic needs relating to hunger, laundry, clothing, contacting friends and family or getting support.
This project involves giving a voucher to intravenous (IV) antibiotic patients with dental infections who get treatment at all four Calgary hospitals. Approximately 5% of patients visiting IV antibiotic clinics are treated because they are suffering from dental infections. This voucher offers a free visit to the Dental Public Health Clinic to remove the source of their dental infection and reduce the rate of recurrence. Once in the dental clinic, patients get connected to a variety of social and health resources from smoking cessation programs to healthy food initiatives.