GIVING BACK TO OUR COMMUNITIES.
IT'S THE RIGHT THING TO DO.
The GSC Community Giving Program (CGP) goes the extra mile, supporting organizations and initiatives that provide frontline care for under-insured or uninsured Canadians.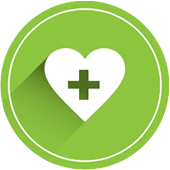 How we do it:
FRONTLINE CARE.
The Frontline Care Program provides financial support to Canadian registered charitable, non-profit, and/or social enterprise charitable organizations that deliver frontline health care (i.e., dental, vision, prescription drugs, disease management, and/or mental health care supports).
The organizations or projects we fund must include the role of a "navigator" or "coach" – a person who connects individuals to other services that are appropriate for their situation. This could include: housing, education, jobs, food, clothing, etc.
WHAT YOU NEED TO KNOW
The application process is currently closed until January 2017, but here's a few key details about how it works.
Please contact communitygiving@greenshield.ca for more information.
Frequently asked questions
on CGP grants
FRONTLINE CARE IN ACTION…
SPOTLIGHT ON QUEBEC.
Want to get to know a bit more about who receives funding through the GSC Frontline Care program? We'll take you across Canada and put a spotlight on some of the great projects and organizations we're proud to support. For example, in Quebec:
For the last 25 years, Le Grand Chemin Centres have provided free family services to Quebec adolescents 12 to 17 years old with addiction issues related to drugs, alcohol, and problem gambling. Most of the youth have the dual problem of addiction and mental health issues.
Youth receive eight to 10 weeks in residential treatment followed by 16 weeks of non-residential care. Family members also receive support via family meetings, telephone consultations, and workshops.
A navigator component ensures that youth receive ongoing support to continue their progress. GSC funding will enable additional training and new tools and strategies.
To learn more, contact http://www.legrandchemin.qc.ca/_home, Facebook, or Twitter.
Médecins du Monde is a medical humanitarian organization committed to helping those most vulnerable abroad and here in Canada.
Their Mobile Clinic—a medically equipped and staffed van—travels to reach people throughout Montreal. Patients receive wound care, vaccinations for hepatitis A and B, testing for sexually transmitted infections and blood-borne infections, as well as follow-up treatment.
As a navigator, the clinic refers patients for additional health and social services as needed and plays an important role in connecting marginalized patients and the Health and Social Services Network. GSC funding will allow the Mobile Clinic to expand its coverage.
To learn more, visit www.medecinsdumonde.ca, Facebook, and Twitter.
Exeko is a not-for-profit organization that promotes inclusion of marginalized populations through innovative cultural and educational programs.
It offers the Lunettes pour tous program through participating libraries in Montreal's shelters, day centres, and community-based clinics. The program allows people to check their eyes using self-diagnosis tests. They can then visit an optometrist regardless of insurance coverage and are also eligible to receive a pair of free glasses.
A project coordinator acts as a navigator making sure that people get the eye care they need. GSC funding will help the program establish new partnerships with eye care professionals and get more libraries involved.
For more information, please visit www.exeko.org, Facebook, or Twitter.