GIVING BACK TO OUR COMMUNITIES.
IT'S THE RIGHT THING TO DO.
The GSC Community Giving Program (CGP) goes the extra mile, supporting organizations and initiatives that provide frontline care for under-insured or uninsured Canadians.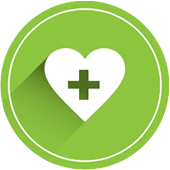 How we do it:
FRONTLINE CARE.
The Frontline Care Program provides financial and organizational development support to Canadian registered charitable, non-profit, and/or social enterprise charitable organizations that deliver frontline health care (i.e., dental, vision, prescription drugs, disease management, and/or mental health counselling.
The organizations or projects we fund must include the role of a "navigator" or "coach" – a person who connects individuals to other services that are appropriate for their situation. This could include: housing, education, jobs, food, clothing, etc.
Frequently asked questions
on CGP grants
FRONTLINE CARE IN ACTION…SPOTLIGHT ON:
ATLANTIC CANADA.
Want to get to know a bit more about who receives funding through the GSC Frontline Care program? We'll take you across Canada and put a spotlight on some of the great projects and organizations we're proud to support. For example, in Atlantic Canada:
Definitely not your ordinary clinic in Moncton, New Brunswick—in addition to providing primary health care to vulnerable people struggling with poverty, mental health, and addictions—the clinic also offers hope and support to those who feel there is nowhere left to turn. Not only does the clinic make it easy for vulnerable people to receive routine health assessments, immunizations, and blood work, but it also provides counselling, addiction management, health prevention services, referrals to specialists, and specialized seminars. With this emphasis on the whole person, the clinic recognizes that simple health problems can become unmanageable when people struggle to meet basic needs like food and shelter. Accordingly, in collaboration with community partners, the clinic established two buildings that provide housing and support for clients with any number of issues. To help the clinic become increasingly client-centred, funding from GSC made it possible for the clinic to hire a navigator. The navigator works alongside each client to ensure holistic care—or "wrap around" services—that insulate the client from falling through the cracks by helping them with their specific, and often complex, needs. To learn more, visit www.salvusclinic.com.
Often described as a neighbourhood hub, the house—which was previously an orphanage—provides services and opportunities to Halifax residents, bringing people together to build a healthier, more vibrant community. For instance, the house offers a preschool program, summer day camp, drop-in coffee hours, affordable drop-in yoga, opportunities to get involved in community gardening and food preparation, space for other non-profits, and trusteeship (which involves providing financial management and budgeting support for clients receiving income assistance). In addition, a community social worker acts as an advocate, navigator, and counsellor for clients struggling with mental health issues and people who need trusteeship. Recently, the house collaborated with community partners to launch a social enterprise that recruits, employs, trains, and supervises youth to provide services like snow removal and leaf raking for older Halifax citizens. This enterprise has gained support from other community members who want to improve their neighbourhood and help local youth. Thanks to GSC funding, the house will be able to hire a new staff member who will expand the services for preventing and managing mental health issues. GSC funding provides clients with paid access to registered counselling therapists, to help via one-on-one intensive therapy; a service their clients would otherwise have little to no access to. For more information, visit www.veithhouse.com